There are literally hundreds of Football Movies on Netflix, and the world gobbles them up like popcorn. From remakes of the originals to new movies, Netflix has a wealth of football movies that people enjoy all over the world.
Football movies have long been a popular genre in the world of cinema, with countless films featuring the sport being made over the years. From inspiring true stories to dramatic fictional tales, there's something for everyone in the world of football movies.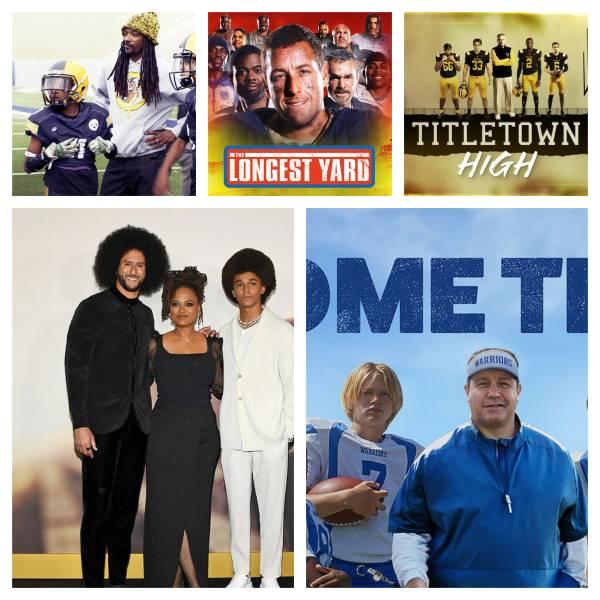 And with Netflix's vast library of content, there are plenty of options to choose from for football fans looking to settle in for a good movie night. In this blog, we will explore some of the best Football Movies on Netflix, ranging from classic films to exciting documentaries and series.
Whether you're a die-hard football fan or just looking for an entertaining movie, we've got you covered. So, grab some popcorn and get ready to dive into the world of football movies on Netflix.
Titletown High 2021
Titletown High is a Netflix documentary series that provides a behind-the-scenes look at high school football in Valdosta, Georgia, a town that has been dubbed "Titletown" due to its storied football history. The series follows the Valdosta High School football team, the Wildcats, as they navigate the challenges of high school life while striving to win on the field.
Throughout the eight episodes, viewers are introduced to a diverse cast of characters, including the team's head coach Rush Propst, who has a controversial past and is under pressure to win; Jake Garcia, a highly recruited quarterback who transfers to Valdosta for his senior year; and Amari Jones, a talented wide receiver who must balance football with family responsibilities and academic struggles.
You can watch this one of the best Football Movies on Netflix here.
Colin in Black & White 2021
Colin in Black & White is a Netflix series that explores the life of former NFL quarterback Colin Kaepernick. The six-part series is a scripted drama created by Kaepernick and acclaimed director Ava DuVernay, and tells the story of Kaepernick's formative years growing up in Turlock, California.
The series follows Kaepernick as he navigates his adolescence and young adulthood, dealing with the challenges of being a mixed-race child adopted by white parents and the racial injustices and discrimination he experiences as a black man in America.
It also explores his journey to becoming a successful football player, from high school to college at the University of Nevada and eventually his time in the NFL. Colin in Black & White is a powerful and timely series that sheds light on the experiences of a prominent figure in the world of sports and his impact on American society.
You can watch this one of the best Football Movies on Netflix here.
Read More: Netflix Lowers Prices in 100+ Countries and Territories
Home Team 2022
Home Team is a Netflix film based on the true story of Sean Payton, the head coach of the New Orleans Saints NFL team. The film stars Kevin James as Payton and follows his journey after he is suspended from the NFL for the 2012 season due to his involvement in the "Bountygate" scandal.
With a year away from football, Payton decides to return to his hometown of Naperville, Illinois, and coaches his son's sixth-grade football team, the Warriors. Along the way, he must confront his past mistakes and rebuild his relationships with his family and the community.
The film is a heartwarming story about redemption, family, and the love of the game. It showcases the importance of community and how sports can bring people together. The film also features real-life footage from the 2010 Super Bowl, which the New Orleans Saints won under Payton's leadership.
You can watch this one of the best Football Movies on Netflix here.
The Longest Yard 2005
The Longest Yard is a 2005 American sports comedy film directed by Peter Segal and starring Adam Sandler, Chris Rock, and Burt Reynolds. The film is a remake of the 1974 film of the same name, which also starred Reynolds.
The plot of the film centers around Paul Crewe, a former football player who ends up in prison after a series of bad decisions. While in prison, Crewe is convinced by the warden to put together a football team made up of inmates to play against the guards.
With the help of former NFL player Nate Scarborough (Reynolds) and a motley crew of fellow prisoners, Crewe leads the team on a journey toward redemption and glory. The film was a commercial success, grossing over $190 million worldwide.
It received mixed reviews from critics, with some praising the comedic performances and others criticizing the film for being too formulaic. Despite the mixed reviews, "The Longest Yard" has become a popular sports comedy and is often referenced in popular culture.
You can watch this one of the best Football Movies on Netflix here.
Coach Snoop 2018
Coach Snoop is a 2018 American documentary series produced by Netflix, which follows the journey of American rapper Snoop Dogg as he coaches a youth football team in Southern California. The series consisted of eight episodes and was directed by Rory Karpf.
In "Coach Snoop," viewers get an inside look at Snoop Dogg's efforts to use his passion for football to mentor and inspire young athletes from his community. The series shows how Snoop works with the players, coaches, and parents to build a successful team while also providing a safe and positive environment for the kids to learn and grow.
The series received positive reviews for its inspiring message and for giving viewers a glimpse into Snoop Dogg's personal life and his commitment to giving back to his community. It was praised for its heartwarming moments and for highlighting the importance of mentorship and positive role models in the lives of young people.
You can watch this one of the best Football Movies on Netflix here.