The Strange reaction of Pakistanis People and NAB over the Foreign Travel Bloggers Kiki Challenge in PIA Aircraft
Eva Zu Beck, a travel blogger does a Kiki challenge in the PIA Plan last night to show her love for Pakistan. She is trying to promote the tourism in Pakistan and also trying to celebrate the independence day. Eva made a small video while doing the viral Kiki challenge. She wears a white and green dress while holding the Pakistani flag. The video spread over the whole social media within a few hours and here we see mix reactions of the People.
When the administrative authorities come to know this, they did not like this act. The national Assembly Bureau (NAB) took notice from PIA for this act. They said that PIA has illegally used its authority as they allow a common citizen to reach at the aircraft while its empty. Now, PIA has to answer this question as it's not entertaining at all instead it's insulting. Eva is forced to delete this video immediately as it is hurting many people.
[youtube https://www.youtube.com/watch?v=l5srEQ7vTo8]
The Reaction of People:
The reaction of the People was really shocking as they find this video entertaining rather than insulting. They think that the girl is promoting love and celebrating independence day in q unique way. They are also blaming social media and NAB for such strict action.

Some people said they are supporting this girl as she is promoting a positive image of Pakistan in the whole world. NAB should take its decision back.


Some people said that NAB is directing their attention to the non-serious issue while they should focus on major issues first.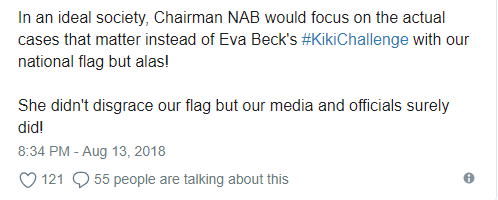 A person said that Eva is promoting Pakistan from past few days and we should not blame her for that dance.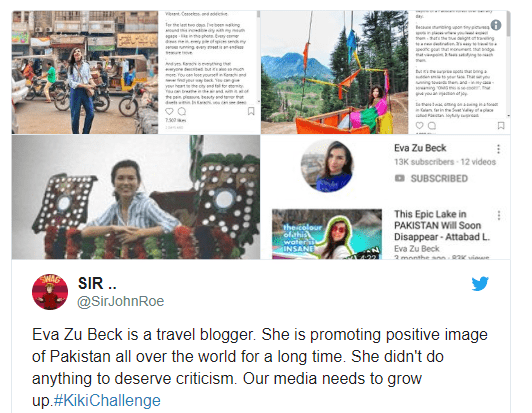 What Eva Said:
When she came to know that the NAB has taken the notice and this act hurts a lot of people, she apologies. She said that she is just promoting the Pakistani culture and this dance was not to disrespect anyone. Moreover, she said she is just celebrating Independence day and hence perform a Kiki challenge. She deleted the video and said I am sorry if someone is being hurt by this act.
[youtube https://www.youtube.com/watch?v=krts2BDJMrk]
Related Article – Pakistani Movie, Actor in Law Copied by Indian Movie Makers Illegally