Some of the biggest and the best minds of the market joined together to discuss and share the Mobile Camera Trends 2022. The event was held by Counterpoint Research where the industry experts from brands such as Samsung Electronics, Tecno and DXOMARK banded together to reflect upon the technological innovation of today and the future.
The event was a successful webinar that was aptly named the "Global Mobile Camera Trends 2022: Innovation Talk." The mind behind this webinar was Counterpoint, a leading technology research firm that invited guests from multiple major brands that take pride in their imaging technology.
Mobile Camera Trends 2022 – Who Was Invited?
Each brand that was given speaking time shared their future investment plans and their plans for enhancing the imaging technology in the coming year. Brands that were invited to the seminar included:
Tecno, the global smartphone giant focused on the emerging markets
Samsung, the global leader in telecommunication, semiconductors, digital convergence technologies and digital media
DXOMARK, the internationally acclaimed testing agency that is the leader in testing batteries for consumer electronics, displays, audio and cameras.
The event was hosted by Vice President of Research of Counterpoint Research, Peter Richardson who spoke to Tarun Pathak, Hervé Macudzinski, Pan Xuebao, and Jimmy Hsu.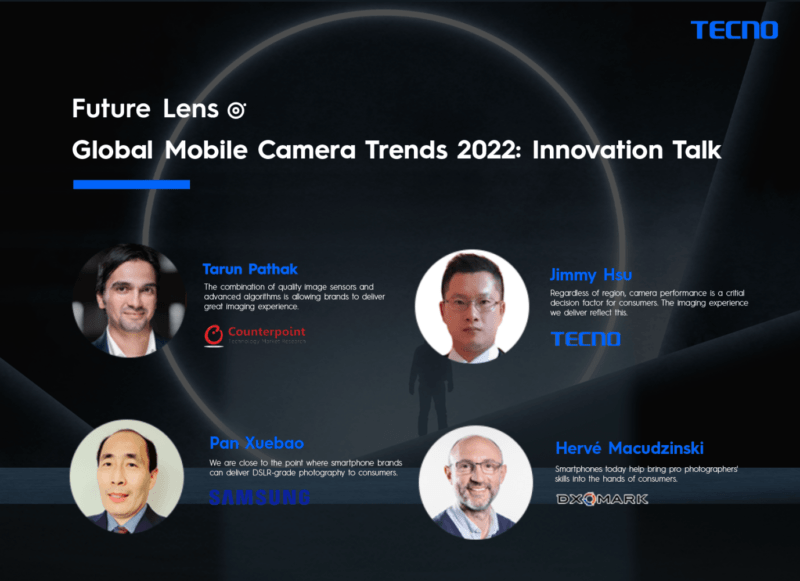 Mobile Camera Trends 2022 – Plans for the Future
The industry experts from all of the above mentioned brands talked about the future of advanced software algorithms, quality image sensors, image and video stabilization, light sensitivity and continuous Lossless Zoom for future smartphones as part of the Mobile Camera Trends 2022.
Tarun Pathak, the of Counterpoint Research Director said, "the combination of quality image sensors and advanced software algorithms is allowing brands to deliver great imaging experiences across all smartphone price points."
Jimmy Hsu, Senior Product Manager of TECNO Image Technology said that the "demand for more diverse features and personalization could drive demand for ToF (time of flight) and DVS (dynamic vision sensor). This will help smartphone to outperform specialized cameras." He further said, "TECNO always aims to provide an excellent photo and video experience through constant innovation and a deep understanding of consumer needs."
DXOMARK's Hervé Macudzinski, Image Science Director and Product Owner of DXOMARK revealed that "the changing technologies in smartphone cameras are enabling users with professional photography skills to capture DSLR quality images."
Finally, Samsung Electronics' VP and Head of R&D, Pan Xuebao, believes "We're close to the point where smartphone brands can now deliver DSLR-grade photography in the hands of customers." He also emphasized that Samsung's Nona Technology and Tetra Technology will further improve the camera and lens performance in both low light and bright light conditions.
The webinar highlighted future mobile camera imaging technology trends and set expectations of the application of these imaging technologies for global markets and consumers, paving the way for further long-term smartphone imaging developments.