One More Entertaining Film Heer Maan Ja is on Its Way (Trailer is Here)…
It seems that the time of excellent entertainment is only few days ago because the splendid Pakistani films are going to release on this Eid-ul-Azha. The Pakistani films Parey Hut Love, Superstar and one more Heer Maan Ja are going to release on Eid-ul-Azha. Today the comedy film Heer Maan Ja released its official trailer. In this comedy flick the more stylish and gorgeous Hareem Farooq and the handsome Ali Rehman Khan would perform the hero and heroine roles. The upcoming film is a fun filled rollercoaster which is a romantic comedy featuring the blockbuster on-screen couple in lead roles. This amazing film is also staled to release on Eid-ul-Azha 2019.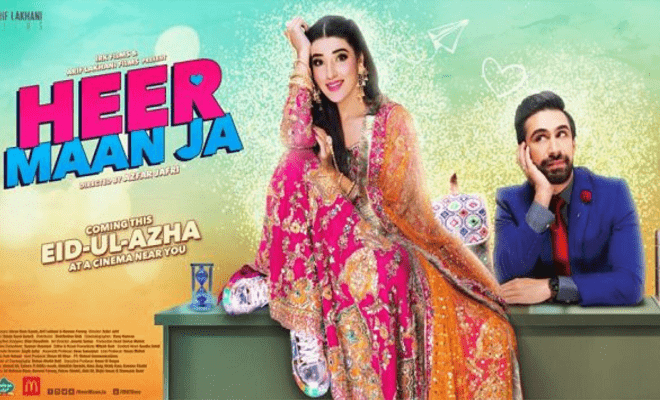 All about Heer Maan Ja:
The two super hit on-screen couple Hareem Farooq and Ali Rehman Khan are back together in IRK Films and Arif Lakhani Films with Heer Maan Ja. It is a fun filled rollercoaster which is also a romantic comedy featuring the both on-screen couple in lead roles. Today its official trailer has been out that includes a mixture of love, fun, romance etc. All you can watch in this single film. Today the official trailer for the film has been released across cinemas in partnership with Geo Films.
This film is directed by Azfar Jafri and Arif Lakhani Films, produced by Imran Raza Kazmi. Hareem Farooq and Arif Lakhani and distributed by Distribution Club & Media Partner Geo Films.
The competitor film as Parey Hut Love also released its trailer last month.
About Story of Film:
The story of this film revolves around two people who are very enthusiastic about life and their future together. Ali is as Kabir and he becomes an architect with big aims and ambitions however Hareem is Heer that is left behind because of conservative family pressures.
Cast Members:
As the trailer is very interesting so the cast members are also very enthusiastic. Faizan Sheikh play the role of an antagonist, Mojiz Hasan and Shamayle Khattak in supporting roles. The guest appearances will be Mikaal Zulfiqar, Shaz Ali Khan, Aaminah Sheikh, Abid Ali, Ali Kazmi and Ahmed Ali Akbar.
Releasing Info:
The comedy flick Heer Maan Ja is schedule to release on Eid-ul-Azha 2019. Don't miss this comedy film with your family and friends in Pakistani cinemas.