Hyperstar was introduced in 1995 and it started selling goods with quality choices in food, personal care, communication, leisure, entertainment and household goods. Hyperstar is one of the most dynamic, fast-moving and exciting hypermarket chains! The company has global expertise which helps the shoppers here in the Pakistan the same quality, variety, and value-for-money that is provided all over the world. Moreover, Hyperstar is spread across 19 Countries with 52 Hypermarkets.
As the New Year 2017 has brought us many sales, this season Hyperstar has also brought us buy one get one free offer. Yes……! As Hyperstar incorporates more than 200 items, you just have to buy the items of your choice and get a free item on each purchase.
Details About Hyperstar Buy 1 & Get 1 Free Deal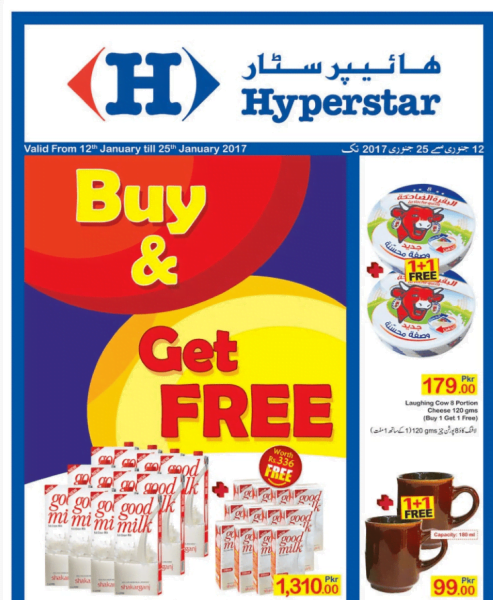 Hyperstar Buy & Get 1 free promotional leaflet is here. Moreover, it allows you to buy any product from more than 200 products from Hyperstar and you will get 1 product Free.
Listed Below Are Some of The Items of My Choice
If you buy Stoneware Mug you will get 1 Free – PKR. 99
Furthermore
•    Buy Lipton Yellow Label 950 grams Get Noodle Free PKR. 702
•    Buy 1 case of Good Milk 1 liter Get 12x 250 ml Free PKR. 1310
•    Shield Tooth Paste Buy 1 Get 1 Free PKR. 54
•    Pepsi Imported Can 150 ml Buy 1 Get 1 Free PKR. 60
•    Buy electronic self-body massage Get Free PKR. 349
This is not all that you can buy from Hyperstar. As we have already mentioned that it incorporates 200 items, so you can visit Hyperstar. Moreover, you can see their leaflet for more details of the items.
The offer has been started and it will be ended on Wednesday, January 25, 2017.  Lahore, Karachi & Islamabad are the major cities where you can avail this offer.
Click here for Details.