No Need to Worry to Visual Impairments while Using Instagram…!!!
Social media is getting more fame day by day due to its ease and reliability. Some most widely used social Medias are Facebook, Twitter, Instagram and much more. Every media is made according to the requirements of the users. Now Instagram would come with two more features for its users. These features would be for the Visual Impairments so that they can use it easily to stay connect with their loved ones. A large No. of people is present in the whole world who have Visual Impairment problem so it's a good news for all those people. The Photo Sharing would allow people to hear description of pictures via screen reader. The Object Recognition Technology has been used in this feature which generates description of photos. The second feature that will be introduced is custom alternative text that added more description when a user uploads a photo. Both features would be introduced soon for the ease of the users. The details are given below, read all these details and wait for its launching.
Ease for Visual Impairments by Instagram
Instagram is introducing two new features for its users who have the problem of visual impairments. The purpose to make these features is to make the social media platform easier and more accessible for people with visual impairment.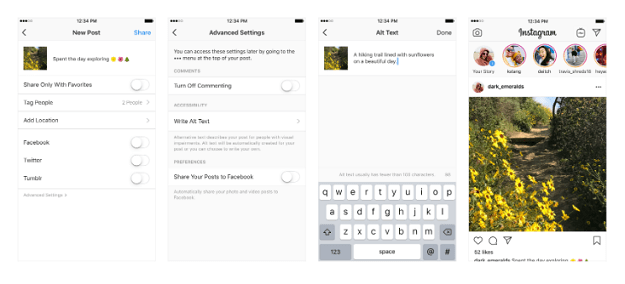 Almost there are more than 285 million people in the world who have visual impairments. Therefore, they feel the need of these features so that they can access social platform widely and easily.
More about Both Features
Through photo-sharing app people would be able to hear descriptions of photos through the screen reader who have visual impairment. This feature would include the Feed, Explore and Profile options in the app. This feature uses object recognition technology that generates descriptions of photos for screen readers. After this when people will browse the site/app they will be able to hear them too.
The second feature would be custom alternative text. This features adds more description about a photo when a user uploads a photo. Then, by using the screen reading option the users would then be able to hear the description.
Both features are amazing as they are providing more ease and reliability for the users. So that, they also stay connected with their loved ones on remote areas. Soon these features would be introduced and users will be able to use them.
Related Article|A Group of Hackers are Hacking WhatsApp Accounts