Jazz has introduced its very own smartphone, the Jazz-Digit 4G. It's an innovative handset, aimed at providing all the basic core features required by a user, combined with a very simple and easy to operate user interface.
Interestingly, the Jazz Digit 4G is a touchscreen device, but also has buttons and keypad, making it convenient for users of all age groups. The Jazz Digit-4G comes with the Android 4.4 Kitkat OS. As far as the internals are concerned, it runs on the Qualcomm MSM8905 Dual Core processor, coupled with 512 MB RAM and 4GB Built-in storage. This device comes with a 2.4" TFT touch screen display, a 2MP camera on the back and VGA camera on the front.
Moreover, it's a Dual SIM device and supports 4G as well. The battery on this device is 2000mAh, which should be enough considering the specs of this device. The Jazz Digit 4G can also be used as an MBB device by using it as a Wi-Fi hotspot.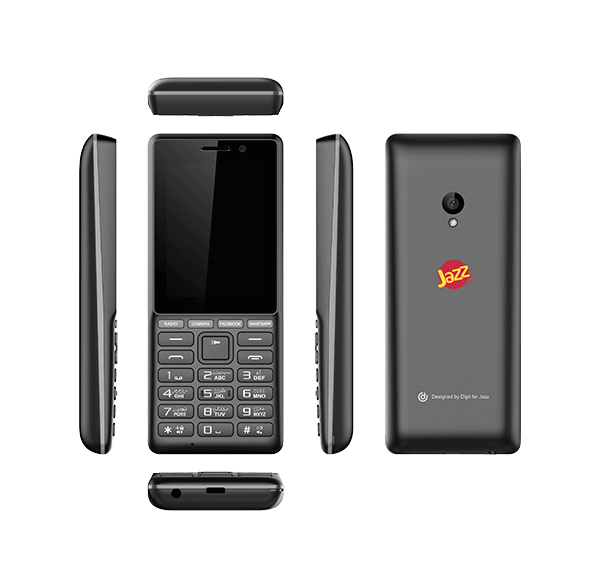 This handset costs Rs.5300 and can be purchased from Jazz Experience Centers and Franchises. Upon purchasing this mobile phone, users get free 6GB LTE Internet data for 6 months along with a free Data SIM with 5GB Free Internet Data for 1 month if the user wishes to use this device as an MBB device.
MBB SIM can be activated from any Jazz point, retailer or franchise. Once the free 5GB Data expires after 30 days, consumers can subscribe to any MBB bundle of their choice and use the Jazz Digit-4G as an MBB device.
Here are the MBB bundles offered by Jazz.
15GB for 30 Days: Rs.999
Subscription Code: *117*71#
Status Code: *117*71*2#
Subscription code: *117*71*4#
36GB for 30 Days: Rs.1500
Subscription Code: *117*73#
Status Code: *117*73*2#
Subscription code: *117*73*4#
75GB for 30 Days: Rs.2500
Subscription Code: *117*74#
Status Code: 117*74*2#
Subscription code*117*74*4#
Also Check Out : Samsung Galaxy S9+ vs Huawei Mate 10 Pro