JazzCash Introduced All New JazzCash Bank Deposit Service
JazzCash Bank account deposit service is offered for easy bank deposits. Therefore, JazzCash Bank Deposit allows the secure transfer in bank account directly. You must have a valid CNIC to avail this service. The agent fee is applicable to all transition and there are limited transactions against each ID.
JazzCash Bank Deposit:
The complete procedure of JazzCash Bank Deposit along with Bank detail, fee detail and service description is described in detail.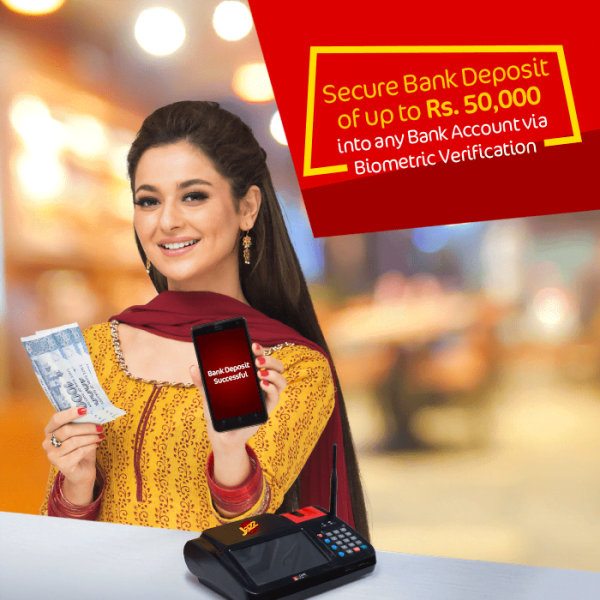 Salient Feature:
Any JazzCash mobile account holder with valid CNIC can avail this service.
The payment can be made to the receipt using 1-Line Network.
After a successful transaction, a receipt will be sent to both the sender and receiver.
The members with other networks can also avail this service.
Applicable Bank Deposits:
The money can be deposit in the following banks directly. There is no need for a third party or any physical appearance to transfer money to any bank.
Allied Bank
Askari bank
Albakra Bank
JS Bank
Citi Bank
Bank Al Habib
Burj Bank ltd.
Dubai Islamic Bank
Faysal Bank
Bank of Punjab
Bank Islamic Private Ltd.
Apna Bank
Silk bank
Soneri Bank
Summit Bank
Samba Bank
Habib Metro Bank
U Microfinance Bank
Meezan Bank
Muslim Commercial Bank
KASB
Tameer Microfinance Bank
United Bank
Sindh Bank
Silk Bank
Standard Chartered Bank
Bank Deposit Through Agent:
The money can be transferred through the agent in the specified bank. But make sure that, the agent charges are applicable.
First of all, the customer has to visit the nearest franchise or Jazz retailer shop.
Secondly, grab your original CNIC along with the copy with you.
Thirdly, give the CNIC number along with the mobile number to JazzCash agent.
After that, provide the amount you want to deposit alongside with recipient's mobile number.
Moreover, provide the bank name and bank account number to the agent.
Make sure, you have confirmed the recipient's bank title.
Then, a confirmation message and receipt will be sent to you by 8558.
Later, you have to collect the stamped receipt.
Agent Charges:
The following charges are applicable for the agent on each specified amount of money.
Transactions Limitation:
The user can send 50,000 PKR per month through CNIC (Biometric).
The user can send 25,000 PKR per month through CNIC (USSD).
No limitation of money receives through a single bank account.
Related Article | Unlock Playstore Entertainment with Jazz Google Play Direct Carrier Billing