Stereo Boombox and Quad DAC in LG V40 ThinQ Smartphone…!
Many new smartphones have been released by many mobile phone companies in this year. A new smartphone by LG Company would also be launched after some months. This smartphone name is LG V40 ThinQ. The LG V40 ThinQ would be the LG's first flagship smartphone which offering stereo speakers that called Stereo Boombox. It also has a Quad DAC as it was also available in its predecessors. There are many excellent features of LG V40 ThinQ as it is powered by Snapdragon 845 chip and coupled with 6GB of RAM. It also includes the total five cameras that are three lenses at the rear and two on the front. The key features of LG V40 ThinQ that are disclosed yet are described here.
All about LG V40 ThinQ
LG would launched its first flagship smartphone with stereo speakers and Quad DAC. This first flagship smartphone named LG V40 ThinQ. The stereo speakers in this case called Stereo Boombox.
Cameras Details:
It has total 5 cameras and would come three lenses at the rear and two on the front. On the rear there will be a regular 12MP f/1.5 unit with large 1.4µm pixels, an ultra-wide 16MP f/1.9 1.0µm snapper and a 2x telephoto 12MP f/2.4 camera with 1.0µm sized-pixels. Front side of V40 ThinQ has two cameras one is 8MP and second is 5MP with regular and wide-angle lenses.
Audio Details:
The new LG V40 ThinQ would be an impressive device in the audio department. It would come with a Quad DAC for best audio quality and a stereo speaker Boombox.
Display & Memory Details:
The display structure of V40 ThinQ is 6.4-inch display with Quad HD+ resolution and a 19.5:9 aspect ratio. The weight of new LG V40 ThinQ would be 169 grams and dimensions would be 158.7×75.8×7.79mm. This smartphone is powered by a Snapdragon 845 chip with 6GB standard RAM and 64GB & 128GB internal storage options.
Battery & Price Details:
The expected battery capacity of V40 ThinQ would be 3,300mAh unit. The starting price of LG V40 ThinQ would be at Rs.50000/- but the exact price is not yet announced by the company.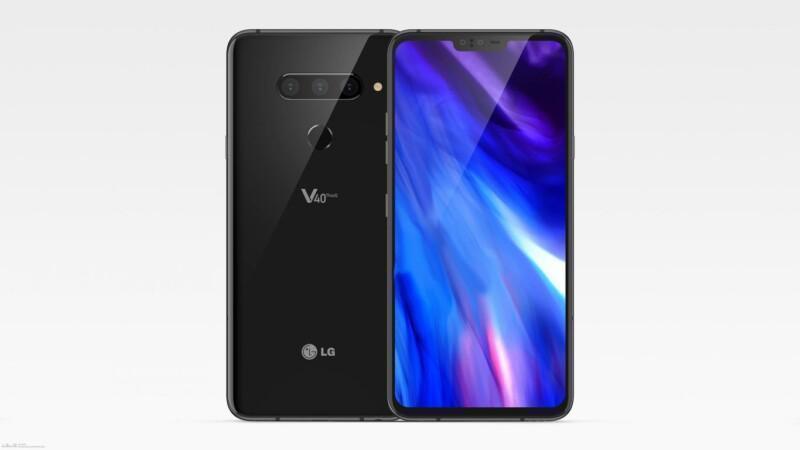 The availability of LG's first smartphone in Pakistan would also be possible after its official launch. The exact date and price details are not yet available but we inform you about these details.
Related Article|Finally, Oppo F9 Launched in Pakistan – Check the Price & Specifications