In ICC ODI Ranking Pakistan Cricket Team at 5th Spot
According to latest ICC ODI ranking Pakistan cricket team move to 5th spot up head of Australia Cricket team. Pakistan Cricket team previously on No 6 spot. After Australia losing their First two match of five match ODI series against England they slipped to sixth place, and will need to win at least one of the three remaining games in the series to climb back above Pakistan to 5th.Both Pakistan and Australia have 102 points.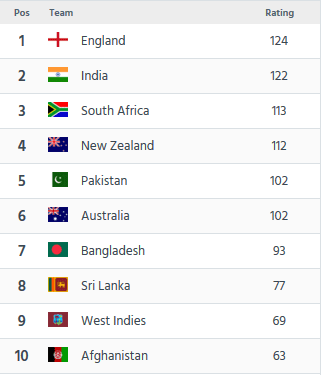 Pakistan last played an ODI series against New Zealand in New Zealand where they lost all of their 5 match and restrict to 6th spot. Here are the complete details about player ranking, batsman ranking, bowler ranking and all rounded ranking.
ICC PLAYER RANKING
Whereas in ICC PLAYER RANKING Pakistani Cricket player remain on their spot like previously because ICC PLAYER RANKING not updated so far.
BATSMAN RANKING
IN ODI batsman Ranking BABAR AZAM stay on 5th spot even after poor performance in New Zealand series with 813 rating point. BABAR AZAM in last 5 ODI innings against New Zealand scored 0,10,8,3,10 respectively. VIRAT KHOLI stay on top with 909 rating point. BABAR AZAM in only Pakistani batsman placed on top 10 ICC batsman.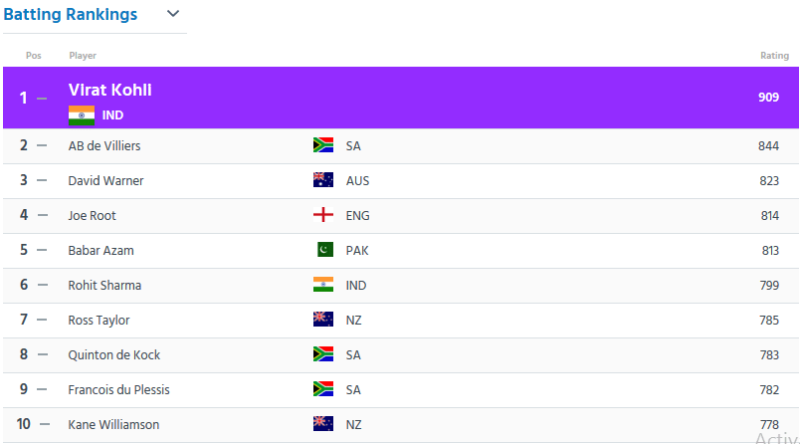 BOWLER RANKING
IN ODI Bowler Ranking HASSAN ALI slip to 4th spot after average performance in New Zealand series with 711 Rating point. HASSAN ALI took 6 wickets in 4 matches against New Zealand not playing the last match of series due to injury. JASPRIT BUMRAH from INDIA stay on top with 787 rating point. Like BABAR AZAM HASSAN ALI also only Pakistani bowler placed on top 10 ICC bowler.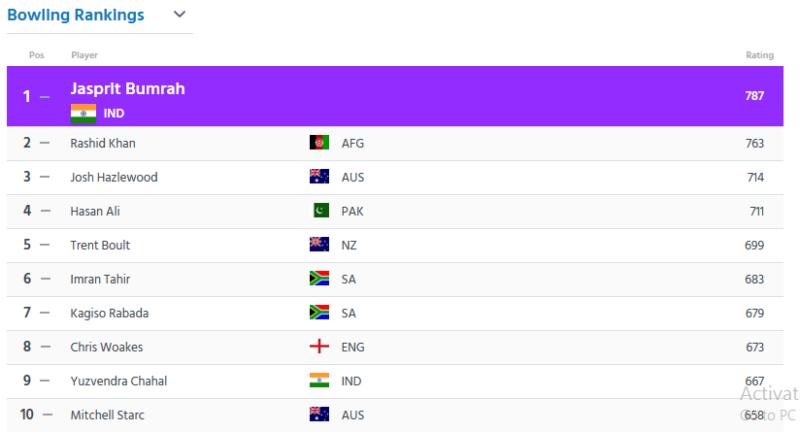 ALL-ROUNDER RANKING
IN ODI All-rounder MUHAMMAD HAFEEZ hold 2nn spot even he is banned to bowl in INTERNATIONAL MATCHES due to suspicious Bowling Action with 339 rating point. After Remodel his bowling action, his bowling action is cleared .MUHAMMAD HAFEEZ performed decent with the bat in his last ODI series against New Zealand. In his last 5 innings he scored 1,60,0,81,6 respectively. SHAKIB UL HASSAN from BANGLADESH hold the top position with 359 rating point.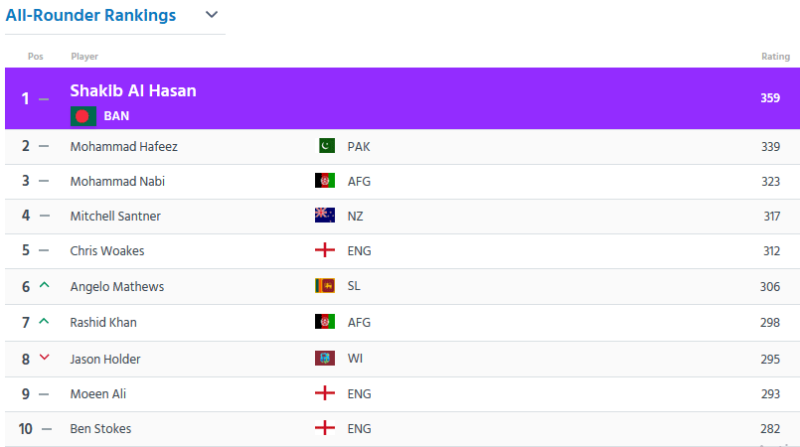 NEXT TOUR
Pakistan Cricket team next campaign is against Zimbabwe in Zimbabwe under the captaincy of Sarfaraz Ahmed where they Played 5 match ODI series starting from 13 July to 22 July 2018.All matches played in Bulawayo. After Zimbabwe Pakistan Tour to South Africa to played 5 match ODI series from 19 Jan to 30 Jan 2019.
Related Article|Pakistani Upcoming Movie Load Wedding | Eid-ul-Azha 2018