Pakistani Movie Review of JPNA2, Parwaaz Hai Junoon, Load Wedding – Which Wins, Which Lose?
Eid ul Adha has been passed and it has given us three amazing movies. There was a tough competition between the three Pakistani Movie named JPNA2, Parwaaz Hai Junoon, and Load Wedding. The title songs, trailers, wedding songs and cast attract the people and everyone was waiting for these movies. However, Parwaaz Hai Junoon was made on Pakistan Airforce life while the other two was based on comedy and love story. The movies have been launched and here is the Pakistani Movie Review and the success factors of them. Indeed, all movies were best but due to competition, there are special places for each.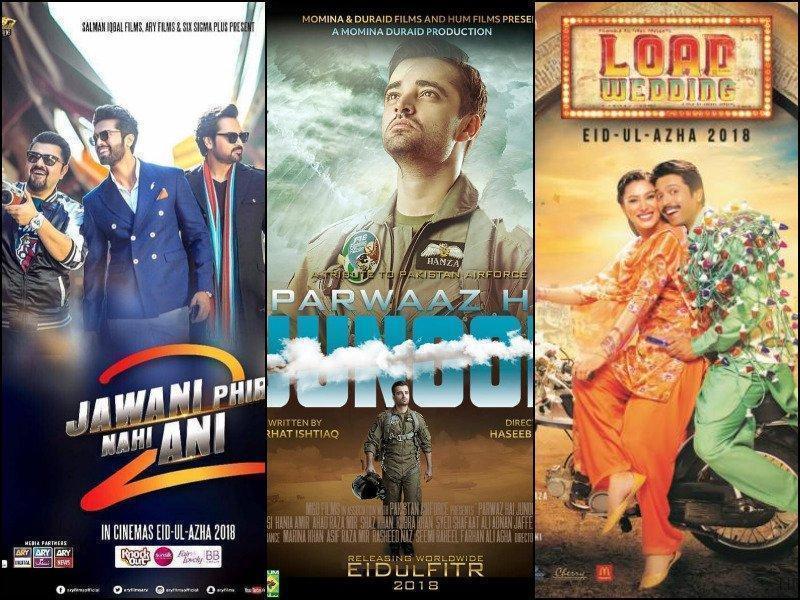 Pakistani Movie Review:
The complete review of all the three movies has been mentioned here along with the four days earning. No doubt JPNA2 succeed in term of profit.
1.JPNA2:
This movie is the sequel of the previous version Jawani Phir Nahi Ani. Hence, it did well as the previous one has done. Although this sequel was much better than the previous one. Hence, the storyline, beautiful action scenes, great script, and cast did well which cause the success of the movie. Here is the complete business of the four days for this movie.

1st Day: 3.23 Crore
2nd Day: 3.57 Crore
3rd Day: 3 Crore
4th Day: 2 Crore
Total: 12 Crore (Budget 10 crore)
2.Parwaaz Hai Junoon:
This movie is based on the life of Pakistan Air Force and the patriotism of the youngsters for the country. It has a perfect combination of comedy, romance, love and the patriotism. Indeed, this movie is a full package but it did not attract as many people as the JPNA 2 has. But there were some weak points in the movie as the comedy scenes were more bet rather than the patriotic one. Although, with medium range business and success, this movie came at number second.

1st Day: 1 Crore
2nd Day: 1.6 Crore
3rd Day: 1 Crore
4th Day: 80 Lacs
Total: 3.86 Crore (Budget 15 crore)
3.Load Wedding:
The most awaited movie of Fahad and Mehwish did not perform well and have to face some problems. Although, the other movie by Fahad has stolen the show this one failed to grasp the attention of the people. However, it's not that bad movie instead it's a family movie which is full of comedy and traditional stuff.

1st Day: 1 Crore
2nd Day: 1.5 Crore
3rd Day: 1 Crore
4th Day: 70 Crore
Total: 3.75 Crore (Budget 8.5 crore)
Related Article – After 2 Disappointing Episodes of Coke Studio 11, 3rd Episode Rocks