In 2017, there had been approximately 100 releases in film industry, among which very few has managed to enter 100 crore club. Ranging from Jagga Jasoos featuring Ranbir Kapoor and Katrina Kaif in lead roles to Sarkar 3 casting stellar cast of Amitabh Bachan and Jackie Sharoff, the movies have either flopped or done very mediocre business last year. But in paralell to these high-end productions, the 2017 year has proved blessed for small budget movies i.e. Hindi Medim, Lipstic Under Mu Burkha and Bareilly Ki Barfi, impressing the critics and audiences. With positive energy, Bollywood is moving ahead to make block-buster movies in 2018, as the cinematic adventure of 3 hours cannot be stopped in Hindi cinema world.
Considering the outclass performance of actors/actresses in previous movies, today we are about to brush out the Top 10 Must-Seen Upcoming Bollywood Movies 2018, which altogether are going to be complete package of singing, dancing, action, romance and drama this year!
Note: No doubt, the most-awaited Bollywood movie 'Padmatvat' has disappointed the critics and audiences and came as a jolt to Hindi film industry in the beginning of 2018, will be not be added in catalogue of top 2018 Bollywood movies.
10- The Accidental Prime Minister
Revolving around the central character of Manmohan Singh the former prime minister of India from May 2004 to August 2008, the movie is actually based on 2014 memoir of the same name by Sanjaya Baru featuring Anupam Kher as Monmohan Singh and Akshay Khana as Sanjaya Baru. The political biography of Manmohan Singh is all about to narrate the fact that how prime minister's power was handled by Sonia Gandhi, will be released in winter 2018.
9- Blackmail (2018)
Directed by Abhinay Deo, the director of the boldest and successful movie of 2011 Delhi Belly, Blackmail is going to be a unique masterpiece once again. Featuring Irrfan Khan and Kirti Kulhari in main lead, Blackmail is black comedy drama, when a husband (Irrfan Khan) discovers extra martial affairs of her wife (Kirti), he blackmails her and her lover pretending someone else, which eventually falls against his blackmail game.
8- Simmba (2018)
The director Rohit Shetty who is literally known for producing spectacular stunts and action on screen, is directing the action cum comedy movie, casting Bollywood's versatile actor Ranvir Singh. Ranvir Singh in avatar of cop is going to bring massive action and family emotions to amaze his fans in December, 2018.
7- Sanju (2018)
In 2018, Ranbir Kapoor will be seen in avatar of Sanjay Dutt in his biopic movie, packed with his personal and career life, along with the controversial life and jail sentence of actor Sanjay Dutt. The movie is going to be an entertainment package for both Sanjay Dutt and Ranbir Kapoor. (Note: After the gigantic failure of Jagga Jasoos, a project made on a staggering budget of Rs 110 failed to earn even Rs 50, Ranbir Kapoor is all set to set his charm over silver screen.)
6- Bazaar (2018)
Focusing on stock market and core elements to expose the power of money and business in society, Bazaar movie starring Saif Ali Khan is all set to hit the commercial success this year. The poster of this upcoming crime thriller Bollywood film reads, "Yahan paisa Bhagwaan nahi, par Bhagwaan se km bhi nahi'' will be a real treat for movie fans, who expect a little more than dances and lovey-dovey stories nowadays.
5- Zero
For the fans of Shahrukh Khan, the Zero movie is going to be a Christmas gift in 2018, releasing in December, the movie is going to prove magical skills and acting of SRK once again portraying him as as a man of short stature falls in love of superstar (Katrina Kaif). SRK as dwarf, Katrina as Superstar, Anushka Skarma as mentally retard, is all what making the movie most-awaited for 2018. (Note: Sri devi will be seen in special appearance the movie, making it last movie of her film career.)
4- Race 3
In the third installment of Race series, what could be more exciting than an electric shock of entertainment in one single movie packed with turns and twists! Featuring Salman Khan, Anil Kapoor, Bobby Deol, Jacqueline Fernandez, Daisy Shah and Saqib Saleem, the steaming hot cast under one movie will be blockbusting piece ever in Bollywood.
3- Veere Di Wedding
After her pregnancy and giving birth to baby boy, Veere Di Wedding is going to a big comeback of Kareena Kapoor Khan, along with stunning actress Sonam Kapoor, in female buddy comedy film. Beside these two ruling figures of film industry, Swara Bhaskar and Shikha Talsania will be seen as bridesmaids of Kareena Kapoor (bride to be) in the movie.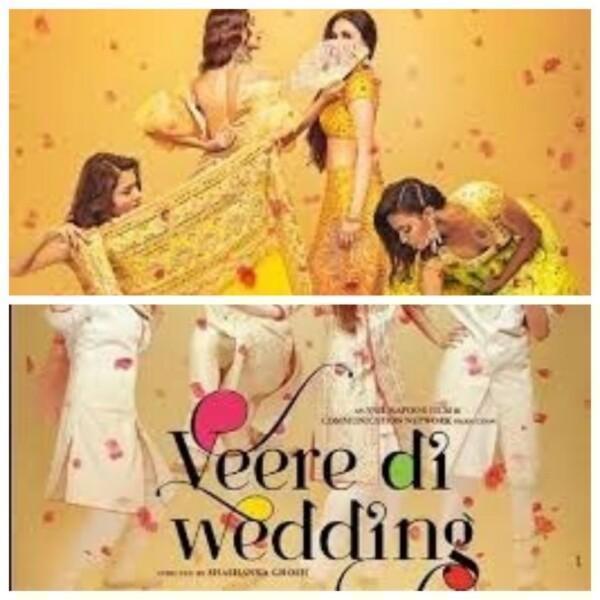 2- Thugs of Hindostan
Based on the fictional novel of Confessions of a Thug, the movie is being filmed in Jodhpur. Casting a stellar cast of Amitabh Bachan, Amir Khan, Katrina Kaif and Fatima Sana Skeikh in action-adventure movie, Thugs of Hindostan is revolving around the thug culture that existed during the pre-independence era.
1- October
Bringing the chronicles of love, students and hostel life of young generation, the movie October starring Varun Dhawan is ready to hit the silver screen in April 2018. For the die-hard fans of Varun Dhawan, who is known for its epic comedy, the movie is great chance for him to prove his acting skill at next level, featuring him as serious 21 year-old lad.
Also Read| Top 10 Best Bollywood Movies of 2017