Top 10 Latest Design and Stylish Eid Dresses for Girls (Eid Collection)
It's the wish of every girl that she looks unique and elegant in the special events. Girls always keep their eye on latest fashion and stylish clothes. Many designers launch the newly designed clothes which are intended to make you classy and chic. On this special event of the Eid, it is necessary to know about which dress is suitable according to the occasion, weather, and latest fashion. The list of top 10 best stylish Eid Dresses for Girls is worth sharing. You can stitch them at your home or buy from the market.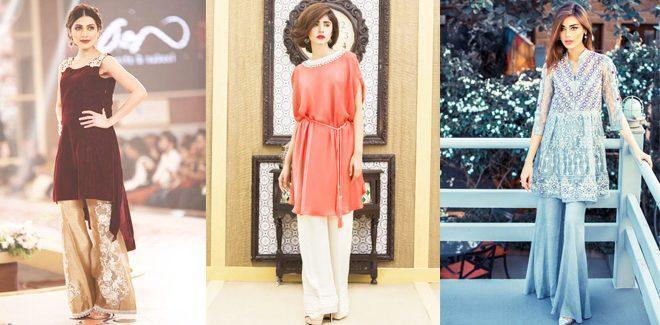 Top 10 Eid Dresses for girls:
The new Stylish Eid Dresses for girls are mentioned due to the new design, pleasant colors and rating. Consider them while you intended to stitch you dress according to the new style.
10. Short Frock:
The short frocks will never go out of fashion. The beautiful combination of red and golden always looks awesome. So, make this event even more special by choosing this perfect color matching frock for chic looks.
9. Sharara and Short:
This dress is indeed the perfect choice for this Eid outfit. The short embroidered black shirt along with white Sharara looks perfect. Moreover, full sleeves with half nude at the top make it more modern yet pretty.
8. Green Shirt:
Green is the more favorite and demanded color now a day. It looks completely perfect with skin color. Take a look at this elegant dress. Moreover, the embroidered lace at the bottom and trousers looks elegant.
7. Fancy Trouser with Shirt:
Perhaps this is something new that will make your event more special. This is stylish yet lightweight dress suitable for this hot summer event. Simple and light work on top and on trouser make it more stylish.
6. Balck:
The most favorite color, black looks absolutely stunning with red color. The front side of the shirt is mall while back side is touching the toes. It is suitable for the women who want the seasonal lightweight yet stylish dress.
5. Simple Dress:
It is the simplest but prettiest dress among Stylish Dresses for girls. The green color shirt along with new styled pajama make it chicer. This dress is best for ladies who are looking for simple dress in this hot weather.
4. Yellow Shirt:
Another simple and classy dress to wear on this Eid is Yellow short shirt. The embroidered shirt along with white new style short trouser is really awesome.
3.White Net Shirt:
White shirt is just love and you will never forget to add it in your new outfits. The short shirt along with hard net embroidered sleeves are amazing. Moreover, the bellbottom trouser with beautiful net lace bottom is outclassed.
2. Skinny Dress:
This is the most decent dress to wear on this special event. The short frock along with elegant trouser can be prove as best combination. The tissue dupatta with beautiful lace doubles the beauty of this dress.
1. Layered Shirt:
One of the best and prettiest dress one can ever have for this event is a layered shirt. The simply designed shirt has many layers at the sleeves and at the front of the shirt. The white tight Sharara looks perfect with this new style shirt.
Related Article | Top 5 Best Online Shopping Website in Pakistan (Shop for Eid)