Complete Detail of UBL Kommittee Account (Full Guide)
United Bank Limited is a private organization providing the banking services all around the country. As always they provide outstanding services to facilitate a large number of users whether its online banking or offline. This time, they have introduced an amazing and unique scheme named UBL Kommittee Account. This is probably the first time when a bank is offering such service. One can deposit the Kommittee by opening their account and deposit monthly charges in it. In the end, the person will get the collected Kommittee.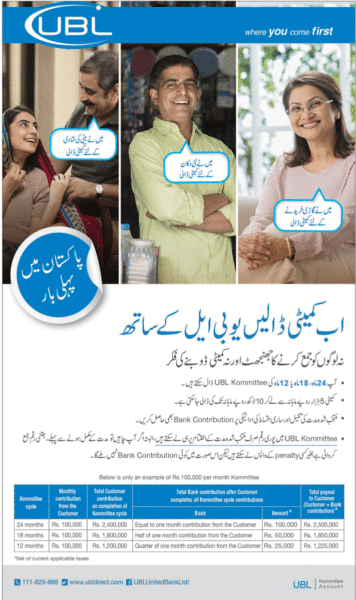 Eligibility Criteria:
If you fall under this criteria, then open your UBL Kommittee Account and have securer and reliable way to secure your money.
All the current and or saving account holders.
Everyone account holder whether they have corporate, joint, partnership or the single account.
All NTB customer (but they have to open a checking account first).
Minimum Denomination:
The minimum denomination for opening this account is 5,000. You have to submit the money in your account. You can submit the multiple of the money like 5000, 10000, 15000 etc.
Key Features:
There are varied duration periods and you can choose it according to your own choice.
The cycles are; 12, 18 and 24 Months.
One can withdraw money before Kommittee ends without any penalty. But in that case, the person will not get Bank Contribution.
One can close this account at any time and the person will get the amount.
No tax is applicable on bank service.
The member will get free e-statement and SMS services.
Bank Contribution:
when the customer successfully completes the Kommittee, they will be awarded Bank Contribution. The following number of the amount will be given;

Firstly On completion of 24 months: 100% monthly committee installment amount will be given to you.
On completion of 18 months: 50% monthly committee installment amount will be given to you.
On completion of 12 months: 25% monthly committee installment amount will be given to you.
Installment Holidays:
In the case when there is no balance in your account which can be deducted by the bank, it will consider an installment holiday. They will give the extension till next month, to the person who can't pay money in that month. The process will forward one month forward.
Procedure:
You can open a bank account manually or online.
Deposit the money in your account or there should already be some accountability.
The bank will automatically deduct the money from your account.
On completion of Kommittee, They will award you committee alongside with bank contribution.
Related Article | How to Book Railway Tickets Online in Pakistan (Step by Step Guide)