If you are a Ufone user, here is great news for you. Ufone has just launched its blaze broadband 4G device with some terms and conditions applied. Now you can enjoy high-speed internet with some amazing bundles at a reasonable rate.
From 120 GB to 300 GB, you can get facilitated with unlimited internet bundles. If you are not familiar with the term Blaze broadband, this article will help you to figure out what this term is and how you can get benefit from this new offer given by Ufone. Let's begin the guide.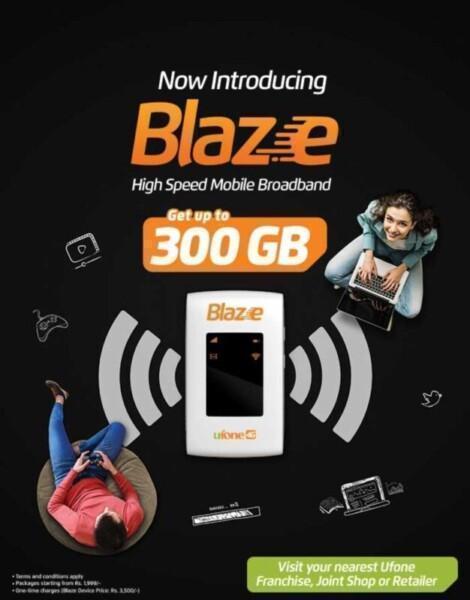 What is Blaze Broadband
Blaze Broadband is a high-speed internet that is locally owned ISP. It gives internet facilities to businesses or companies. This feature was applicable abroad but now Ufone has become the first franchise to launch this feature in Pakistan too. Now, you can get up to 300MB at a fast speed.
In today's age, the internet is the basic necessity of everyone's life. This fast internet service launched by Ufone in these times is surely going to be a big hit.
Ufone Blaze Broadband 4G Devices Bundles
Let's talk about the bundles that you can avail of with this new service.
The first bundle that Ufone is offering costs 1,999. In 1999 you can get 120 GB that will start from 1 AM and will end at 1 PM.
The next bundle that you can enjoy costs 2,499. In this amount, you can get 200 GB that will start from 1 AM and will end at 1 PM.
The last bundle costs you 2,999. In this amount, you can enjoy 3000 GB and this offer will start from 1 AM to 1 PM.
You can choose any of the above-mentioned bundles as per your requirement.
Terms and Conditions
In order to enjoy any new offer, one has to go through all the terms and conditions that are set for that particular offer. The conditions include:
The duration for each bundle is 30 days. After 30 days you have to renew the bundle and before 30 days you can't unsubscribe it.
There are no extra charges applied on the above-mentioned bundles. The amount is fixed.
If you have finished the allotted data volume before the completion of 30 days, you can re-subscribe to the bundle anytime.
If you are a subscriber of the Ufone master number, then you have to dial USSD in order to subscribe to any bundle.
Hence, if you want to get the bundle of Rs 1,999 for 120 GB, you have to Dial *7073# after recharging Rs. 1,999 against your Ufone Blaze MSISDN.
If you want to get the bundle of Rs. 2,499 for 200 GB Dial *7074# after recharging Rs. 2,499 against your Ufone Blaze MSISDN.
Last but not the least, if you want to get the bundle of Rs. 2,999 for 300 GB Dial *7075# after recharging Rs. 2,999 against your Ufone Blaze MSISDN.
Blaze Broadband Warranty Process
The 4G Blaze device has 1 year warranty period. After 1 year you will no longer use the warranty card.
In case of water damage, only you will be reasonable for the device failure. Furthermore, in case you get it repaired by any unauthorised person, you will no longer be able to claim a warranty.
You have to visit the nearest After-Sales service centre in order to claim the warranty.
The Ufone MBB battery has a time period of 6 months only.
Connecting to the Ufone 4G Blaze Device
Now the main question arises that how a customer can connect to this device after busying it with the Ufone franchise. On the back of the device, there will be a white label that includes:
Device IMEI
Serial number of device
Wifi SSID of device. This is the name of the Wifi network.
Wifi Key. This is the password of your Wifi that you can enter on any device.
Device Manager Link: 192.168.1.1
Important Points
Let's cover a few important points regarding the purchase of this device and where can you use this device. If you are planning to get your hands on this newly launched device, you can visit your nearest Ufone franchise or Ufone retailer.
Furthermore, You will be able to use that device across all 3 G and 4 G enables areas without any internet loss. Apart from the Ufone service centre, a few other alternatives include Easy Paisa, Upaisa and Jazz cash apps.