Its All About Zong PayMax- Effective Service for Money & Bank Transfer and Bill Payment
Zong Pakistan is the no. 1 network for its customers as prepaid and postpaid. Zong always providing the best services of calls, messages and internet services on reasonable prices. Now Zong launched a new service named as "Zong PayMax".  It is a mobile banking service in Pakistan in collaboration with Askari Bank Limited. Now users can pay their bills and transfer money through Zong PayMax.
Details of Zong PayMax
Now you can send money to anyone at any time in all over the country. You can also download Zong PayMax Mobile App in your smartphones and register yourself on PayMax account.
Major Services by Zong PayMax
Money Transfer
Bank Transfer
Utility Bill Payments
1. Money Transfer via Zong PayMax
Any Pakistani citizen that has a valid CNIC can send or receive money. This service is not only for ZONG customers but also the other mobile network customers can use it. When you send or receive money an SMS message will be sent to both the Sender and the Receiver. The service of Sending and Receiving money is available from thousands of PayMax outlets all over Pakistan.
Send Money Process:
Sender must be physically present on the Merchant Location for OTC Money Transfer and provide following information: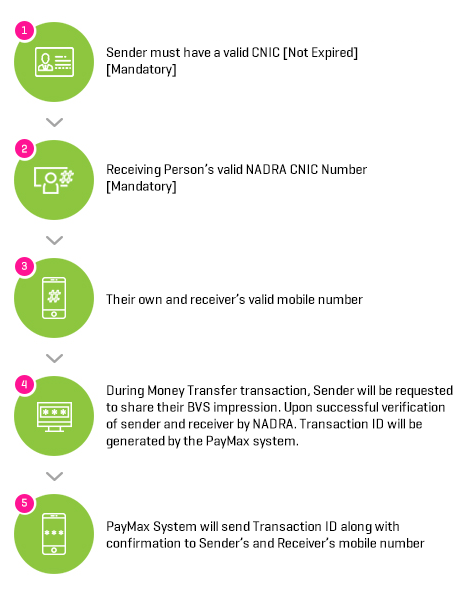 Receive Money Process:
Receiver must be physically present on Merchant Location for OTC Receiving and provide following information: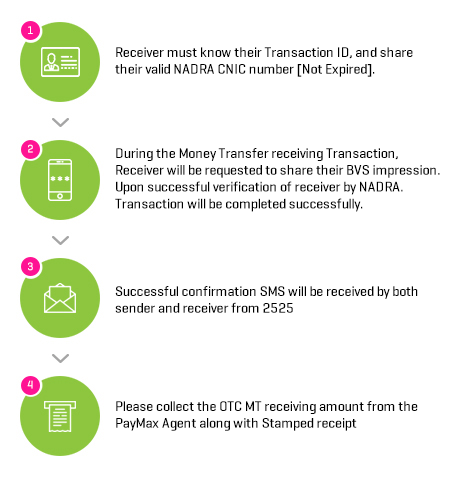 Service Charges of Money Transfer
Money Transfer CNIC to CNIC

Start Slab

Slab End

Total Fee (PKR)

1

500
30
501
1,000

60

1,001

2,500
120
2,501
4,000

180

4,001

6,000
240
6,001
8,000

300

8,001

10,000
350
10,001
13,000

400

13,001

15,000
450
15,001
20,000

550

20,001

25,000
650
25,001
30,000

750

30,001

40,000

850

40,001

50,000

950
Sending & Receiving Transactional Limits:
Rs.50000/- per month can be send on a CNIC
Rs.50000/- per month can be received on a CNIC
2. Bank Transfer via Zong PayMax
PayMax Bank Transfer through Bank Account allows customers to send money to their friends, family and business partners. They can send directly into their Bank Accounts from any Zong PayMax outlet in the most efficient, secure and convenient way.
Process:
In order to transfer money to Bank account through a PayMax outlet, the following process will be followed:
You need to bring your CNIC and a Photocopy.
Tell the amount and Sender's Mobile Number.
Tell Receiver's Mobile Number, Account Name & Number to Zong PayMax Agent.
Confirm the Receiver's Bank Account Title then the transaction will be processed.
An SMS will be sent from 2525 to both Sender and Receiver about the successful Transaction.
Important Note: Expired Nadra CNICs will not be accepted for sending money to Bank Accounts.
Service Charges of Bank Transfer
Bank Transfer IBFT (OTC)

Start Slab

Slab End

Total Fee (PKR)

1

1,000
35
1,001
2,500

50

2,501

4,000
65
4,001
6,000

80

6,001

8,000
90
8,001
10,000

105

10,001

13,000
120
13,001
16,000

130

16001

20,000
155
20,001
25,000

170

25,001

30,000
185
30,001
40,000

205

40,001

50,000

225
Sending Transactional Limits:
Rs.50000/- per month can be send on a CNIC
Bank Names for Money Deposit
Al Baraka
Allied Bank
Apna Micro Finance Bank
Askari Bank
Bank Al Habib
Bank Al-Falah
Bank Al-Falah
Bank of Punjab
Dubai Islamic bank
Faysal bank
FINCA Microfinance Bank
Habib Bank
Habib Metropolitan Bank
JS Bank
Meezan Bank
Muslim Commercial Bank
NIB Bank
Samba Bank
Silk Bank
Sindh Bank
Soneri bank
Standard Chartered Bank
Summit bank
Tameer bank
U Microfinance Bank Limited
UBL Bank
Waseela Microfinance bank
3. Utility Bill Payments via Zong PayMax
You can pay your Utility Bills of Electricity, Gas, Telephone or any other through Zong PayMax service. You can pay your postpaid bill as well through any PayMax agent. The utility bills can be paid of following companies:
Electricity companies
Telephone Companies
Water & Gas Companies
Internet Companies
Municipal
For paying utility bills you need to share these following details as:
Your Consumer Number
Your Mobile Number
List of Electricity Companies
KESC (Karachi Electric Supply Company)
HESCO (Hyderabad Electric Supply Company)
IESCO (Islamabad Electric Supply Company)
MEPCO (Multan Electric Power Company)
FESCO (Faisalabad Electric Supply Company)
LESCO (Lahore Electric Supply Company)
GEPCO (Gujranwala Electric Supply Company)
PESCO (Peshawar Electric Supply Company)
QESCO (Quetta Electric Supply Company)
Telephone Companies
PTCL (Pakistan Telecommunication Company Limited)
V-fone
Gas & Water Companies
SSGC (Sui Southern Gas Company)
SNGPL (Sui Northern Gas Pipelines Ltd)
KWSB (Karachi Water and Sewerage Board)
LWASA (Lahore Water and Sanitation Agency)
FWASA (Faisalabad Water and Sanitation Agency)
RWASA (Rawalpindi Water and Sanitation Agency)
HWASA (Hyderabad Water and Sanitation Agency)
BWASA (Bahawalpur Water and Sanitation Agency)
GWASA (Gujranwala Water and Sanitation Agency)
Internet & Municipal
Wateen
Wi-tribe
Qubee
CDGK (City District Government Karachi)
Related Article|All Zong Call Packages – Hourly, Daily, Weekly and Monthly