Full Review, Story, and Reaction of People Regarding Teefa in Trouble Movie
Ali Zafar's blockbuster movie Teefa in Trouble earned 85 Million in a week. It breaks the records of all Pakistani movies in term of business and success. On the first day of its launch, it starts up with 23 Million and now its predicted that it will increase more in the coming days.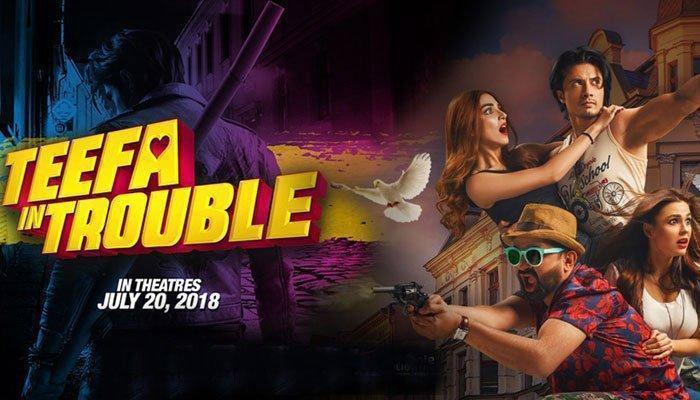 It's time for the success of Pakistani movies and hats off to Ali Zafar who make it possible. The great movie Teefa in Trouble has been launched and distributors are wonder about its success. This movie has broken all the records of Pakistani history and does a business of 85 million rupees in a week. The main things which make this movie successful are;
The perfect acting of both Maya and Ali.
The exceptional story which is the mixture of comedy, emotions, romance, and love.
Super dialogues and good production.
Some perfect scenes which look like Bollywood and Hollywood movie.
Worth ending and start of the movie.
The shooting has done in 3 different places; Pakistan, Poland and Bangkok and its lit.
The story of the Movie:
The movie is completely a blend of Romance, sadness, emotions, comedy, and family. Mahmood Aslam sent Ali Zafar aka Teefa to Poland for the kidnap the daughter of Javed Sheikh. Aslam wants to get married his son with Seikh's daughter. Maya Ali aka Inaya is the daughter of Javed Sheikh and the victim too. When Ali kidnaps Inaya, he falls in love with her. Now, he has to escape he from Aslam and her father as well. In short, the movie is worthier to watch.
[youtube https://www.youtube.com/watch?v=jw5dTVTX9zo]
Reactions of People:
Some people really praise this movie and highlights the best things about it. Indeed, it is the epic of this year and it had opened the door for further filmmakers towards success.
Moreover, some people boycott the movie and the reason is Mesha Shafi Allegation. People attach the wires of Movie and Ali Zafar's personal life. It has been seen on the day of the launch that many people also boycott the movie. They thought that watching this movie is opposite to support a harasser.


Some people thing boycott of the movie is not right in any way. Although he has an allegation of harassment, why to boycott the movie. Perhaps, this is the most positive and quite peaceful response.


Humayun Saeed also praised and said Teefa in trouble, Load Wedding, and Parvaz hai Junoon are the biggest epic of this year.

Finally, this movie has broken the record of JPNA, which had the record of highest business earned in less time.


Related Article | Boycott HUM TV & Celebrities – Online Petition Started for not Voting in Pakistan