Everything You Need To Know About Liaquat National Hospital & Medical College…
Liaquat National Hospital & Medical College is the largest private sector tertiary care hospital serving the society for the last 56 years. It has 700 bed, latest diagnostic lab, MRI machines, additional Executive II and III ward, CCU, MICU, and in increase number of dialysis and ventilators. It has the latest diagnostic, therapeutic & preventive healthcare facilities and is equipped with state-of-the-art advanced technology and fully-equipped operation theaters. It provides 24 hours emergency, pharmacy, laboratory and radiology services including nuclear medicine facilities.
Major Departments in Liaquat National Hospital
Medical & Allied:
Cardiology
Chest Medicine
Dermatology
Diabetes, Endocrinology & Metabolism
Family Medicine
Gastroenterology
General Medicine
Nephrology
Neurology
Oncology
Pediatric Medicine
Psychiatry
Rheumatology
2. Surgical & Allied:
Accident and Emergency
Anesthesia & clinical Care
Breast Diseases
Cardio Thoracic Surgery
Dentistry & Maxillofacial Surgery
ENT Head & Neck surgery
Gynecology and Obstetrics
General surgery
Ophthalmology
Orthopedic Surgery
Plastic and Reconstructive Surgery
Pediatric Surgery
Spinal and Neuro Surgery
Urology
Vascular Surgery
3. Diagnostic:
Biochemistry
Hematology & Blood Bank
Histopathology
Laboratory Collection Center
Microbiology
Molecular Pathology
Radiology
4. Other Clinical Departments:
Pharmacy
Physical Therapy & Rehabilitation
Occupational therapy Unit
Speech and Language Pathology Unit
Neuropsychology Unit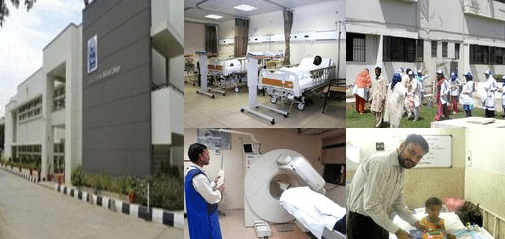 5. More Services:
Academic Council
Health Information Management Services
Nutrition & Food Services
Medical Education
Social Services Department
Academics of Liaquat National Hospital
Medical College
College of Nursing
School of Physiotherapy
School of Diagnostic Lab Science
PG Training Courses Program
Facilities Offered by Liaquat National Hospital
Baby Day Care Center
Home Health Services
Library
Rehabilitation
Research & Skill Development Center
More about Liaquat National Hospital
Liaquat National Hospital has its excellent faculty, nurses and staff specialized in every aspect of medical care. The patient's need & satisfaction are the top priorities and providing the highest standards of clinical care services to patients. It caters approximately 25,000 emergencies, 60,000 inpatients and over 260,000 outpatients each year.
The hospital also offers residency training programs recognized for fellowship by the College of Physicians & Surgeons Pakistan (CPSP). It includes certain disciplines which are also recognized by different Royal Colleges in the UK.
Contact Details 
Address: Liaquat National Hospital National Stadium Road, Karachi 74800, Pakistan
UAN: +9221-111-456-456
Fax: +9221-34140014
Email: admin@lnh.edu.pk
Related Article|The Indus Hospital Karachi| Free of Cost Medical Services