The Live Streaming of the Play No Time to Sleep Will Depicts the Last 24 Hours of the Death prisoner
We all are familiar with the exceptional acting skills of the actor and director Sarmad Khoosat. He has given us many amazing drama serials which not only highlights the social issues but also enlight also motivate us to resolve them. Here is another stuff by Sarmad Khoosat named No Time To Sleep. This live streaming will display the last day (24 hours) of the prisoner. Sarmad will play the leading role in this act as he is playing the character of the prisoner who will be hanged and how the person feels when he comes to know about his death day.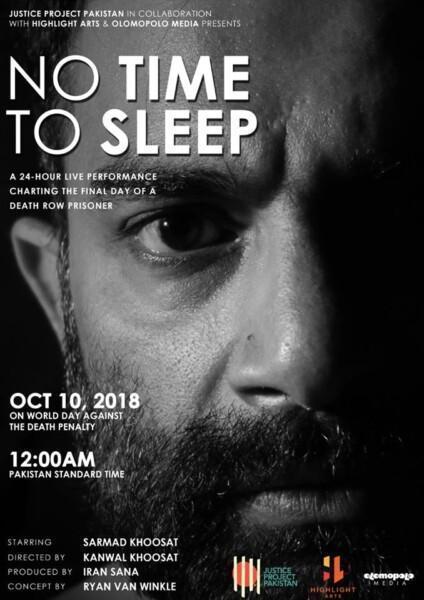 Cast and Crew:
Although no other cast of No Time To Sleep has reveled now except the leading role. However, there are minor details of the cast and crew.
Sarmad Khoosat – Lead Role
Kanwal Khoosat – DIrector
Iram Sana – Producer
COncept By: Ryan Van Winkle
Story Line:
The story of this one day play named No Time To Sleep will be based on the prisoner named Prisoner Z which is played by Sarmad Khoosat. Sarmad aka Prisoner Z has committed some crime and court give him death punishment. The play will depict how the last 24 hour is miserable for the prisoner who is sentenced to death. The play will highlight his feeling and emotions for the last 24 hours. Will, he hanged or not is still a mystery. However, the prisoner will get media coverage and he may describe her story as well as crime. He will also describe his feeling and how his family will feel when they will be rushed to see their beloved for the last time.
In short, the purpose of the drama is to aware the people about the feelings of such prisoner. The drama will be shown worldwide and it will highlight the feelings of the dead prisoners all over the world. the idea is given by Ryan Van Winkle and Produced/ directed by the Pakistan directors and producers.
When to Play:
The live streaming of the play will be started at 12:00 am exactly on 10th October 2018.
Related Articles – Upcoming Drama Serial Deedan Will Shines a Light on Pakhtoon Culture