Here Are The Top Best Points to Visit in Swat KPK Pakistan…!
Allah blessed Pakistan with real natural beauty across the country as the real beauty is spread in whole country. There are lot of viewing points for visitors and travelers in Pakistan. Many people decide to go in vacation to other countries but you keep in mind that your own country has many places that can't compete with any other country. In this article I would describe the top 7 beautiful places to visit in Swat KPK Pakistan. Swat is the place that is full of lush green meadows and beautiful scenery points in KPK Pakistan. If you are deciding to go for a visit then you must go in Swat to see heavenly places that would surprise you. After visiting Swat KPK Pakistan best places you would forget the green valleys of Switzerland, the snow-capped peaks of Nepal or the crashing water of Niagara Falls.
Best Points to Visit in Swat KPK Pakistan
1. Kalam
One of the most attractive and viewing point in Swat KPK Pakistan is Kalam. Many people visit this iconic place in summer season and spent the most memorable time in Kalam. This breathtaking tourist attraction point is surrounded by evergreen forests, snow clad mountains and wooded hills. The river Swat flows with full glory here and give a lovely sight to viewers. Several other lakes like Mahodand, Kharkharai, and Kundol lakes can be easily accessed from Kalam.
2. Malam Jabba
If you are a ski lover then Malam jabba is the perfect place to visit in Swat KPK Pakistan. It is one of the most famous hill station in Swat KPK Pakistan due to its attractive points. It is surrounded by thick Alpine forests and fresh water streams, every inch of this beautiful place has a glamour of its own.
3. Fizaghat
The second beautiful point to see in Swat KPK Pakistan is Fizaghat for travelers and tourists. This beautiful hill station is situated on the river bank of Swat. It is located in the town of Mingora, almost 3.6 km away from the town. It is famous for Fizaghat Park that is full of mesmerizing views of river swat and the glorious mountain range across the river. There are also many luxurious hotels in Fizaghat range that offer the best local culture for tourists.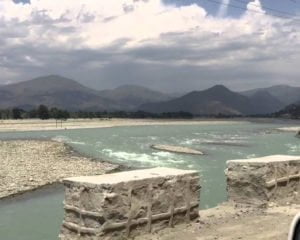 4. Mingora
Mingora is the largest and main commercial city that serves as the administrative center and economic hub for Swat valley. The city is a major tourist attraction point and several archeological sites are also there in Swat KPK Pakistan. Some points like Budkara, Saidu Stupa and the famous White palace Marghazar can be easily accessed from Mingora.
5. Marghzar
About 13 kilometers from Saidu Sharif, Marghzar is located which is famous for White Palace. It was constructed in mid1900's with white marble, local tourists from all around the world visit Marghzar to sight this beautiful attraction of Swat. This white palace is the point that you must see in Swat KPK Pakistan. You can also do shopping here like shawls, carpets, traditional caps and sightseeing of white palace architecture, lush green garden.
6. Bahrain
In favorite tourists points of Swat KPK Pakistan another point is Bahrain that is located 58 km north of Mingora. It is a beautiful Hill station and the meeting point of Daral and Swat River. Madyan Trout fish farm is a very famous tourist view point which is also in Behrain. Two fascinating hiking trails lead towards Daral and Saidgai lakes. Bahrain is also best known for its local art work and handicraft items.
7. Saidu Sharif
The administrative center of Swat KPK Pakistan is Saidu Sharif provides all the amenities for its citizen and the visitors. The city is named after the prominent leader, Saidu Baba. There are many point to see as Royal Palace, Tomb of Saidu Sharif with the Swat Museum and much more. Swat Museum displays different Buddhist Stu pas along with the antiques of Gandhara art. Moreover, daily flight operation from Islamabad to Saidu Sharif Airport is being conducted by PIA for the tourist and other.
Now the most attractive and beautiful points of Swat KPK Pakistan are here for you. If you made any plan to visit in northern areas of Pakistan then don't forget to visit these places. You would enjoy a lot and capture many lush green scenes of Swat KPK Pakistan. All these best points would make the best memorable time in your whole life.
Related Article|Top 10 Beautiful Valleys of Pakistan| Real Natural Beauty of Pakistan